Oral health plays an essential role in maintaining our overall well-being. However, dental problems, such as gum disease, arise in some cases which require periodontal treatment, including surgery.  Laser gum surgery, also known as  LANAP (Laser Assisted New Attachment Procedure), is an innovative technique that has been successful as an alternative to traditional gum surgery.   Laser (LANAP) surgery is a minimally invasive, painless procedure offered in Parker and Glendale, Colorado.
Dr. Maryanne Butler, Dr. Amy Riffel, and their experienced team are dedicated to helping you achieve and maintain a healthy smile. From general cleanings to periodontal treatments and dental implants, we're here to provide the care you need to feel your best. We believe every patient deserves compassionate, personalized attention, and we strive to make every office visit a positive experience. Trust us to be your partner in dental health, no matter where you are in Colorado.
What is Laser/LANAP Surgery?
Laser (LANAP) surgery is a periodontal treatment solution that uses highly-concentrated light beams to treat or remove the unwanted or infected tissue with minimal bleeding, discomfort, or downtime. The laser light sterilizes the area, killing the bacteria that have invaded the gum and bone surrounding the teeth  This in turn results in  reduced inflammation, bleeding, and pocketing after the area has healed. This technology is safe, precise, and efficient, with minimal pain and minimal recovery time, making it ideal for those with busy schedules.
Who is a Good Candidate for Laser Surgery?
Laser (LANAP) surgery may be an option to treat your gum disease. If you're experiencing red, swollen, or bleeding gums and/or periodontal pockets, your dentist may refer you to our office for laser (LANAP) surgery.  Laser (LANAP) surgery is not indicated for all patients with gum disease. Contact our office today to see if you are a good candidate for laser (LANAP) surgery.
Benefits of Laser Surgery over Traditional Surgery
Laser (LANAP) surgery offers many benefits over traditional ("cutting and stitching") surgical options, including:
Reduced discomfort

Quicker healing time

No post-operative swelling 

Less gum recession

Less bleeding
What to Expect During the Procedure
Laser (LANAP) surgery is a painless procedure that typically requires only local anesthesia. The laser light is directed at the affected pocket during the procedure, and the diseased or damaged tissue is removed. There is little to no discomfort following the procedure, and most patients can return to normal activities immediately.
Here are some things you need to know before undergoing laser surgery:
Types of Laser Procedures – There are two types of laser surgeries: hard and soft tissue procedures. Hard tissue procedures are used for cutting teeth, bone grafts, and biopsy procedures, while soft tissue procedures are used to reshape or remove dead or inflamed tissue.  LANAP laser surgery is considered a soft tissue laser procedure as the laser is targeting the diseased tissue on the inner lining of the gum pockets.
Prior to the Procedure- You will be seen for a pre-operative appointment to go over the procedure and the instructions for home care after surgery.  It is critical that you follow these instructions to optimize healing and maximize the results. 
During the Procedure – During the surgery, you'll receive a local anesthetic, and Dr. Maryanne Butler or Dr. Amy Riffel, will use the laser to treat your gum disease.  This procedure will also include the use of ultrasonics and hand instruments that are often used during a routine cleaning with your dentist.  If you are anxious about the procedure, you can consider oral or IV sedation.  You must have a driver bring you to and from the appointment if you decide to have oral or IV sedation.
Recovery – You may have some mild tenderness in the gum tissue after the surgery, which is typically alleviated by over-the-counter medications.  In many instances, you won't even need to take any medication. It is very important that you follow special home care instructions after surgery, which will include no brushing or flossing in the surgical areas for a certain time period. You should also be prepared to avoid certain foods or drinks as advised, so healing is not compromised. 
Laser (LANAP) Surgery in Parker and Glendale
Laser (LANAP) surgery is a minimally invasive, painless treatment option that can treat gum disease.  If you're experiencing gum disease or other gum-related issues, schedule an appointment with Mountainview Periodontics & Dental Implants or Periodontics of Cherry Creek to discuss if laser (LANAP) surgery is right for you. 
Our experienced and skilled team of dental professionals will provide a thorough evaluation, discuss your options, and determine the best treatment plan to safeguard your oral health. We know that dental health is critical to overall wellness. We're proud to offer quality dentistry services at two locations: Periodontics of Cherry Creek in Glendale, Colorado, and Mountainview Periodontics & Dental Implants in Parker, Colorado.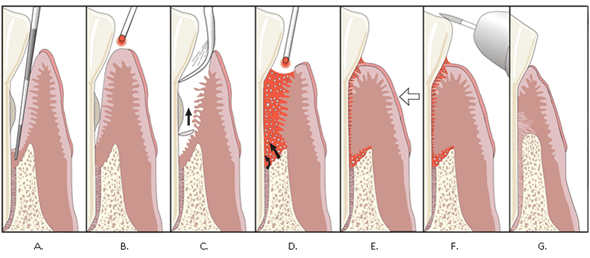 If you are looking to get treatment for periodontal disease in Parker or Cherry Creek, CO, ask us about our laser technology!