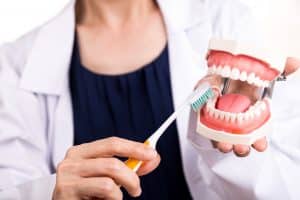 September is Gum Care Month. So this month, we want to focus on how you can maintain healthy gums through good oral health care. One of the easiest ways to help prevent gum disease is to brush and floss every day, so, therefore, it is imperative to know the correct way to take care of your teeth and gums. It does not matter if you brush first or floss first, as long as you do both (twice a day!). 
Brushing your teeth is an essential part of your dental care routine. The ADA recommends you brush your teeth twice a day with a soft-bristled brush for a healthy mouth and smile. The size and shape of your brush should fit your mouth, allowing you to reach all areas easily. And, you should replace your toothbrush every three or four months, or sooner if the bristles are frayed. A worn toothbrush won't do an excellent job of cleaning your teeth.
It would be best if you position the toothbrush at a 45-degree angle where your gums and teeth meet. While applying slight pressure, gently move the brush in a circular motion using short strokes. Use this method to clean the front of your teeth, then move to the back of your teeth, the biting surfaces, and then your tongue, using the same gentle movements. Be sure you are constantly pushing the brush head to avoid damaging your gums!
To floss, use about 18 inches of floss, and wrap the floss around your middle finger. Wrap the rest around your other middle finger, leaving 2-3 inches of floss between your fingers. While tightly holding the floss between your thumbs, insert it between two teeth. Curve the floss into a "C" shape against the tooth and gently slide it up and down. Then, with the floss between the two teeth, switch the "C" shape against the adjacent tooth, and repeat the sliding motion. Move to the next tooth over, and repeat the process, unwrapping fresh floss from your middle finger as you go. 
Most people recognize how important it is to keep your teeth and gums healthy, but different lifestyle factors can negatively impact your periodontal health over time. To help maintain healthy teeth and gums, keep these tips in mind: 
Strive to be stress-free

Kick your tobacco habit

Cut back on alcohol intake

Stock up on healthy foods
Daily brushing and flossing are among the best ways to help prevent gum disease because it keeps the formation of bacteria-rich plaque to a minimum. However, you should be sure to visit us here at Mountainview Periodontics and Periodontics of Cherry Creek at least twice a year to have your teeth professionally cleaned and to screen for signs of periodontal disease.