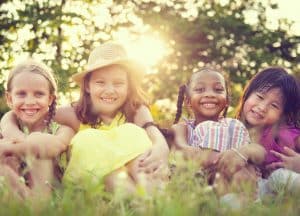 One in 700 babies is born each year with a cleft lip, a cleft palate, or both. Besides its devastating emotional and social impact, this common congenital disability can also jeopardize a child's long-term health. Fortunately, incredible progress has occurred in the last half-century repairing cleft defects. As a result, today's children with these birth defects often enter adulthood with a regular appearance and better overall health. And, since July is National Cleft and Craniofacial Awareness and Prevention Month, we want to shed some light on Everything you Need to Know About Cleft Lips and Palates.
What is a cleft lip? A cleft lip can range from a bit of notch in the colored part of the lip to a complete separation of the upper lip, extending up and into the nose. This can affect one side of the mouth (unilateral) or both sides (bilateral) and can be complete (meaning the cleft goes up into the nose) or incomplete. A cleft lip can also affect the gum where the teeth come through. Again, this can range from a small notch to a complete separation of the gum into two parts.
The severity of the symptoms varies from case to case. Cleft lip and cleft palate are distinguishable by a separation or opening in the palate or lip. As a result, you may have difficulties with feeding and speech. Additionally, both conditions are associated with ear infections, hearing loss, and dental problems. To treat these symptoms and others that may arise, work with an oral/dental specialist to develop a treatment plan.
Children with an orofacial cleft may experience:
Problems with eating/feeding

Speech development

Higher susceptibility to ear infections

Hearing difficulties

Growth and development

Dental issues

Self-esteem and self-confidence
There are services and treatments available for children with orofacial clefts and may differ with the severity of the gap. Manage and treating orofacial clefts may be dependent on factors such as:
Age

Specific needs

The presence of associated syndromes

Other congenital disabilities
With treatment, most kids with cleft lip and palate are treated successfully. Sharing awareness of cleft lips and palates issues supports prevention and treatment efforts and helps the kids and families affected. If you or someone you know is affected by a cleft lip or cleft palate or would like more information on repairing cleft congenital disabilities, please contact us or schedule an appointment for a consultation.