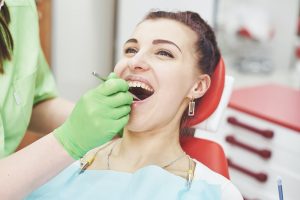 When oral cancer is diagnosed in its earliest stages, treatment is generally very effective. Signs & Symptoms of Oral Cancer or any noticeable abnormalities in the tongue, gums, mouth, or surrounding area should be evaluated by a health professional as quickly as possible. Almost 42,000 Americans will be diagnosed with oral or throat cancer each year. The 5-year survival rate of those diagnosed is only slightly more than 64%. When cancer is detected and treated early, treatment-related health problems are reduced. The good news is that oral cancer can easily be diagnosed with an annual oral cancer exam and effectively treated when caught in its earliest stages.
Oral cancer is a pathologic process that begins with an asymptomatic stage during which the usual cancer signs may not be readily noticeable. This makes the oral cancer examinations, performed by the dentist, critically important. Oral cancers can be of varied histologic types such as teratoma, adenocarcinoma, and melanoma. The most common type of oral cancer is malignant squamous cell carcinoma. This oral cancer type usually originates in lip and mouth tissues.
Where can oral cancer occur?
Lips

Mouth

Tongue

Salivary Glands

Oropharyngeal Region (throat)

Gums

Face
What symptoms should you look for?
A sore or irritation that doesn't go away.

Red or white patches.

Pain, tenderness, or numbness in your mouth or lips.

A lump, thickening, rough spot, crust, or small eroded area.

Difficulty chewing, swallowing, speaking, or moving your jaw or tongue.

A change in the way your teeth fit together when you close your mouth.
So what causes oral cancer? Research has identified a number of factors that may contribute to the development of oral cancer. Those at an especially high risk of developing oral cancer are heavy drinkers and smokers older than 50. The human papillomavirus version 16, which is sexually transmitted, is related to the increasing incidence of mouth cancer in non-smoking patients. It is likely that there is a complex interaction of many external and internal factors that play a role in the development of oral cancer.
Your mouth is one of your body's most important early warning systems. Don't ignore any suspicious lumps or sores that last more than two weeks. Should you discover something suspicious, make an appointment for a prompt examination. Early treatment may well be the key to complete recovery. If you have any Signs & Symptoms of Oral Cancer, please be sure to schedule an appointment with us today!